Creative Uses for Race Medals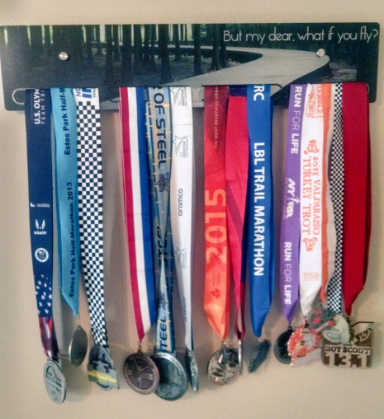 Every race seems to offer a medal nowadays, from local 5ks to ultramarathons, which has created a dilemma for many runners.  What to do with the ever growing pile of medals?  Is your hardware collection becoming cumbersome?  Listed here are creative uses for your post-race bling. 
Invest in a Medal Holder
Medal holders are a great, customizable option that provide an easy way to organize hardware from your favorite races.  These serve as a wonderful conversation piece, or can provide motivation in your home gym.  
Donate to a Good Cause
Saving medals from favorite races is a good idea, but if you have race bling that is simply taking up space in a closet, considering donating them to a good cause.  For instance, many children's hospitals accept donations of medals to hand out to patients who are fighting debilitating disease.  Organizations such as Medals4Mettle can also facilitate such donations.  
Get Crafty
Alternatively, you can turn your hard-earned medals into the following arts and crafts projects:
Coasters
Some medals are perfectly designed for turning into drink coasters.  Simply purchase thick felt or corkboard from an arts and crafts supply store and then cut out a piece of the material in the shape of the medal.  Remove the ribbon from the medal and then use a hot glue gun to attach the piece of felt or cork to the underside of the object for an instant coaster.  
Magnets
Other medals make great refrigerator magnets.  For this project, purchase a magnetic strip or block (depending on the weight of the medal) from an arts and crafts supply store.  Remove the medal's ribbon, glue the magnet to the back side of the medal, and affix the finished product to the refrigerator or other magnetic surface. 
Brooches
Would you prefer to wear your medal year-round?  You can easily turn a lightweight medal into a wearable brooch by hot gluing a pin-back (also found at arts and crafts supply stores) to the underside of the medal.  You can affix your brooch to a jacket, backpack, spike bag, or any other piece of fabric.  One great idea is to create a wall hanging with medal brooches to celebrate your hard work.
Christmas Decorations
Perhaps the easiest way to recycle your medals is to turn them into Christmas decorations.  This option is especially great for a running-themed Christmas tree.  You can leave the original ribbon on the medal, or replace it with a shorter piece of wire, ribbon, or heavy-duty hook. 
Wind Chimes
If you prefer outdoor decorations, race medals are perfect for preparing DIY wind chimes.  For this project, the craftsman drilled holes into the bottom of an old birdfeeder and then strung the medals with fishing line.  To balance the medals, he used fishing weights.  This project might be more time consuming than the rest, but it certainly is a unique way to keep your medals on display in a functional manner!
Leave a comment
Comments will be approved before showing up.